Programs
School Age Gymnastics Academy
At Bright Stars Gymnastics, once your child enters Kindergarten, they "graduate" to the recreational program. At this time the girls and boys classes are generally split into based on age and level criteria. All of our carefully thought out classes are designed to foster your child's love of physical fitness and gymnastics in a fun, challenging environment.
Based upon the premise that ALL children benefit from training their young bodies and minds, emphasis is placed on body awareness, speed, agility, flexibility and strength. Classes are modeled after the USA Gymnastics level progressions. The athletes will train on the actual gymnastics apparatus for their level and gender.
Gymnastics training enhances many other sports, including soccer, football, dance, basketball and track. "Fast twitch' muscles, necessary for explosive speed and quickness are naturally awakened through vault and floor training. Early training in upper body strength can be crucial for the future diver, pole-vaulter or baseball star, and can begin with early gymnastics training.
2013-2014 School Year Gymnastics Schedule
Our Tuition is now based upon a eight week pay period
Benefits of Participating in Gymnastics at Bright Stars
*Our Tumbling Classes can be found under our Cheer/Tumbling Academy Tab*
---
---
Novice 1 (kindergarten)

55-minute class

The Novice 1 class offers longer rotations on each apparatus. This class is appropriate for first time students and for those moving up from our pre-school age classes. Students will be taught the basic essentials of gymnastics including but not limited to proper rolls (forward, backward, dive and straddle), squat on vaults, casting on bars, mounts, dismounts and jumping on beam.
---
Novice 2 (1st grade and up)

55-minute class
Novice 2 classes are appropriate for students who have completed kindergarten and also for students who may be trying gymnastics for the first time. In this introductory level class, children are taught progressions and skills appropriate for their age and ability.
---
Intermediate (1st grade and up: Invitation Only)
55-minute class
Intermediate 1 classes are designed for student who have successfully learned the skills taught in our Beginner 2 program. This class is a great opportunity to experience new skills, while perfecting old ones. A gymnast must achieve certain skills to be invited to this program. Skills needed :
---
Advanced (8 & up: Invitation Only)
60-minute class

The Advanced class focuses on more advanced skills on all four Olympic events (vault, bars, beam and floor) with an emphasis on progressive skills that lead to competitive level gymnastics. The gymnast is introduced to basic dance in the gymnastics setting. At this level, self-discipline and internal motivation become emerging benefits for the athlete. Gymnasts enrolled in this class must be able to perform the following skills: Bars: chin-up pull-over, hollow body cast push away, back hip circle, and 3 chin-ups. Floor: back bend kick-over, consecutive cartwheels, run, hurdle, round-off, and rebound. Vault: sprint, dive roll, sprint, hurdle, and straight jump onto mat stack. Beam: handstand or cartwheel on low beam, skipping, and tuck jump.
*Girls should wear a leotard*

---
*Our Tumbling Classes can be found under our Cheer/Tumbling Academy Tab*
---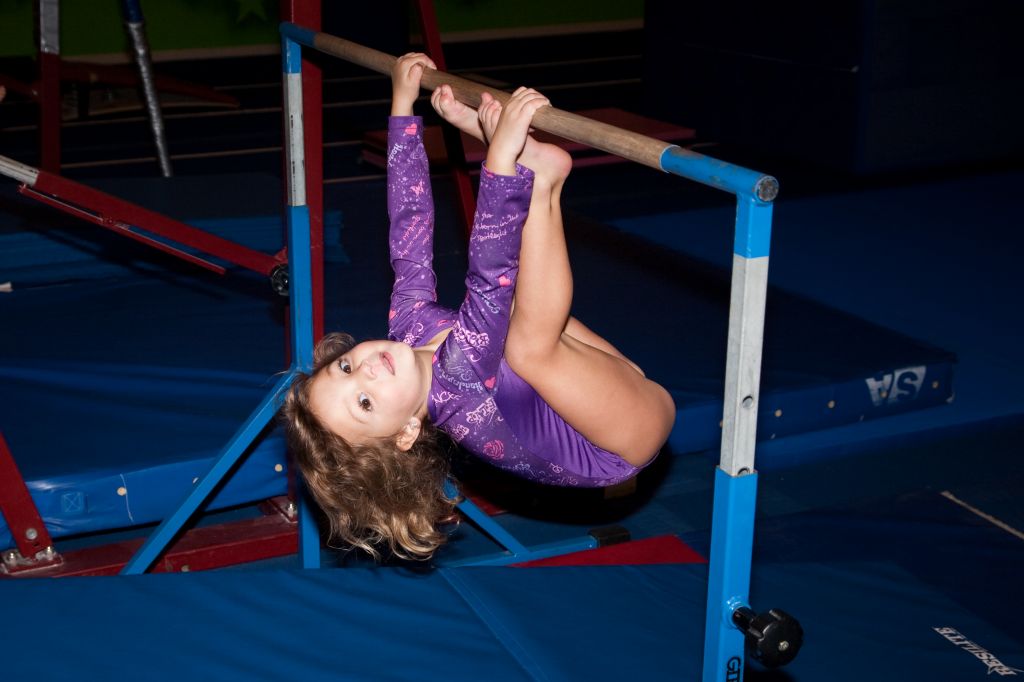 ---
*Bright Stars Pro Shop is the perfect place to purchase all of your leotards, shorts, dance shoes and more. We discount most items by 20-35% off the suggested retail prices.
NOTE: All students progress at varying levels. Children will advance to the next level when they attain specific skills. Please understand Bright Stars teaches skill progressions leading up to specific skills on all events. For example, if a child is unable to do a round-off but has been working on it for a period of time, he/she is likely able to do several of the progressions leading up to that skill. Please understand children reach milestones prior to attaining a specific skill.
*Girls should wear a leotard*